– UK economy rebounds with a bang in January as GDP rises 0.5%.
– Rebound more than offsets -0.4% decline seen back in December.
– And may be enough for markets to keep faith with BoE rate hike bets.
The UK economy rebounded from its December slump early in the New Year, according to Office for National Statistics (ONS) figures released Tuesday, and momentum behind the recovery could be enough to ensure financial markets keep faith with hawkish bets about Bank of England (BoE) interest rate policy.
The UK economy grew by 0.5% in January, which more than reverses the -0.4% decline seen back in December, when markets had been looking for only a 0.2% increase in the New Year.
All main sectors of the economy contributed to growth during the January month, with the exception of agriculture, although the standout performer was the construction sector which saw output rise by 2.8%. However, that simply reverses a -2.8% decline from December.
"The larger than expected monthly increase in GDP of 0.5% in January (consensus 0.2%) is a reassuring sign that, up until January at least, the UK economy was weathering the political crisis at home and slowdown overseas pretty well," says Andrew Wishart, an economist at Capital Economics.
"The rebound in GDP in January, after December's 0.4% month-to-month drop, is a timely reminder that the PMIs aren't a reliable indicator of the economy's momentum when political uncertainty is elevated," says Samuel Tombs, chief UK economist at Pantheon Macroeconomics.
Tuesday's report comes after IHS Markit PMI surveys of the services, construction and manufacturing sectors suggested strongly that the economy ground to a halt in January.
Those PMI surveys continued to point toward economic stagnation after ONS data revealed the December GDP contraction, leading to increased speculation that the economy had hit a rough patch just as the March 29, 2019 Brexit day appeared on the horizon.
ONS figures for January show the economy rebounding resolvedly from its December trough but the UK economic picture painted by Tuesday's numbers is entirely different when viewed over a longer horizon, because GDP grew by just 0.2% for the three months to the end of January.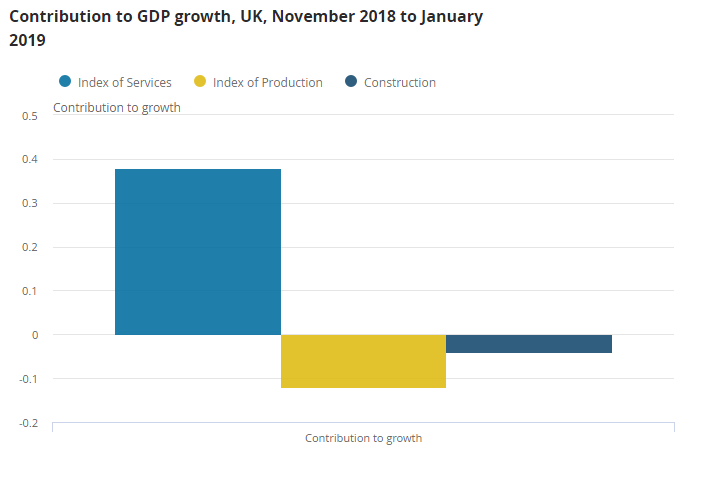 Above: Sectoral contributions to UK GDP growth on a three-month basis.
Quarterly growth was led by a robust expansion in the services sector but the increase was unchanged from the 0.2% pace of growth seen in the final quarter of 2018 and takes the shine off of Tuesday's headline.
On a three-month basis the services sector expanded by 0.38% while output from the construction sector declined -0.04% and output from the industrial sector fell -0.12%. However, economists say the pace of growth in the January month alone could be more important for the outlook than the three-month number.
"January's increase in GDP exceeded even our top-of-the-range 0.4% forecast, so we are revising up our forecast for quarter-on-quarter growth in Q1 to 0.3%, from 0.2%. This implies that little, if any, excess capacity will open up in the first half of the year, giving the MPC little time to delay another rate hike if, as we expect, GDP growth regains some momentum once a Brexit deal has been signed off," says Tombs.
Tuesday's data follows a year in which UK GDP grew by just 1.4% after the economy expanded by 0.2% in the final quarter, 0.6% in the third quarter, 0.4% in the second quarter and just 0.1% in the first quarter. That was the weakest expansion since 2012, and one that many economists have attributed to uncertainty over the Brexit process.
First quarter GDP growth has tended to be weak in recent years and given the performance of the economy in 2018, expectations for the New Year period in 2019 have been particularly downbeat. But some economists are telling their clients that Tuesday's figures could mean this year is different.
"There is no denying that today's figures suggest the economy is weathering the Brexit storm remarkably well," says Wishart of Capital Economics. "Of course, the data may deteriorate in February and March if Brexit has caused consumers and firms to reach for the handbrake. But note that even if monthly GDP growth is zero in February and March, the economy would still grow by 0.4% in Q1. As a result, we are happy to stick with our 0.3% q/q forecast."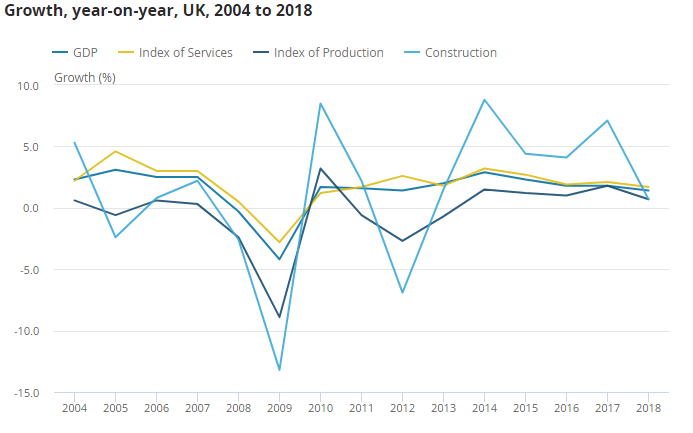 Above: UK GDP growth trends.
Currency markets care about the GDP data because of what it might mean for Bank of England interest rate policy. Rising demand within an economy can often mean increased inflation pressures, and it is changes in the consumer price outlook that dictate BoE interest rate decisions.
The BoE has raised rates by 25 basis points on two occasions since the referendum in 2016, taking the Bank Rate up to 0.75%, and it's said repeatedly in recent months that elevated inflation and a robust outlook for consumer price pressures mean it'll need to keep raising rates in the coming quarters.
However, pricing in the overnight-index-swap market implies a BoE bank rate of just 0.81% for December 19, 2019, which is just 6 basis points above the current cash rate and suggests strongly that investors have only limited appetite for betting on a BoE rate hike coming this year.
The actual Bank Rate that would prevail if the BoE were to hike again is 1%. As a result, there is significant scope for investors to price-in BoE policy action for 2019, which would be positive for Pound Sterling exchange rates if such a thing were to happen.
Many economists say a deal facilitating an orderly exit of the UK from the EU would be enough to persuade the BoE to come off the sidelines and lift its interest rate again.
By James Skinner
Source: Pound Sterling Live